What do debt collectors and bailiffs do? And if you feel you're being chased or hounded by a debt collection agency, can you complain, and how should you go about it?

What is a debt collection agency and what do they do?
Debt collection agencies work on behalf of businesses to whom money is owed (creditors). Not all businesses use debt collection agencies. Some assume responsibility for collecting debts themselves, but many more – and especially larger organisations – employ debt collection agencies because they are specialists in recovering debt.
Debt collection agencies typically work in one of two ways:
Some debt collection agencies work on behalf of creditors. The debt remains with the original creditor but the collection agency will receive a percentage of any debt they recover.
Some agencies buy packages of debt from creditors, effectively taking ownership of it. Many credit agreements have a clause in them that enable companies to do this.
If you have received a letter from a debt collection agency, check to see who the letter is asking you to pay. If it's the original creditor, the chances are the debt remains with them. If it's the agency, they may well have taken direct control of the debt.
What sorts of debts do debt collection agencies collect?
Debt collection agencies typically collect money owed from the following:
Unpaid loans
Credit card debt
Overdrafts
Unpaid utility bills
Local council debts or money owed to individuals
That role is distinct from the job of enforcement agencies (commonly called bailiffs). If an agency sends a debt collector to your home, they will have different powers and work to a different set of rules compared with bailiffs.
Are all debt collection agencies the same?
Receiving a letter – or a knock at the door – from a debt collection agency is never a welcome experience, but debt collection services are an important part of any economy. The 300 members of the Credit Services Association (CSA) work with around 50 million accounts, totalling almost £60 billion of debt. The debts they recover each year amount to around £4 billion.
CSA members work to a code of practice, and part of that code is about communication and reaching solutions that work for all parties. But even the CSA would recognise that not every case goes to plan – and not every debt collection agency is a member of the CSA. And that's where complaints can arise.
The most common debt collection complaints
In 2018, the Financial Services Ombudsman (FSO) handled more than 3,000 debt collection inquiries and revealed its most commonly received complaints regarding debt collection. Those complaints included:
Making excessive contact with debtors – by phone, letters or both – about a debt
Demanding repayment of debts that did not belong to the person being contacted
Demanding too much money
Trying to collect debts that had already been paid, or which were covered by a Scottish trust deed or protected in some other way by a debt management arrangement
Adding excessive fees to debts
Chasing individuals for debts that were unenforceable or statute-barred (i.e. debts not chased within five years are usually 'statute barred' in Scotland).
Of these, 21% of complaints related to being asked to repay the wrong amount. 13% involved customer service issues (i.e. admin errors, excessive contact or debt that no longer existed) and 13% complained they were being chased for debt that wasn't theirs.
Why do complaints arise?
Not all complaints arise as a result of 'bad apple' debt collection agencies. Because of the way some debt collection agencies operate, buying large amounts of debt – and sometimes thousands of individual accounts – from creditors, errors can creep in as data passes from one system to the next.
But in some instances, as chief ombudsman Caroline Wayman notes, issues arise when "businesses' lack of empathy or flexibility… create additional problems for people who are struggling, and potentially in vulnerable circumstances."
Can I complain?
If you feel a creditor or their debt collection agency has treated you unfairly, you can complain. The list of complaints above is a good sample of the sorts of issues that have been raised in the past, but your complaint doesn't necessarily have to fit into one of the above categories to stand a chance of success.
How to complain about a debt collection agency
If you feel you have a complaint with a debt collection agency it can be tempting to try and resolve the issue there and then with a phone call. But instead, put your complaint in writing. Here's why:
Most of us don't record the calls we make, so whilst the collection agency will (probably) keep a record of your call, you won't – which puts the agency at an advantage.
Even if you do record your conversation, it's much harder to piece together a series of calls. Letters or a string of emails are much easier to follow and help build a clear picture of who said what.
Putting your complaint in writing gives you a chance to collect your ideas and make your argument in the clearest way possible.
It's easy to forward copies of letters or emails onwards (for example, to the ombudsman) if you need to take the matter further.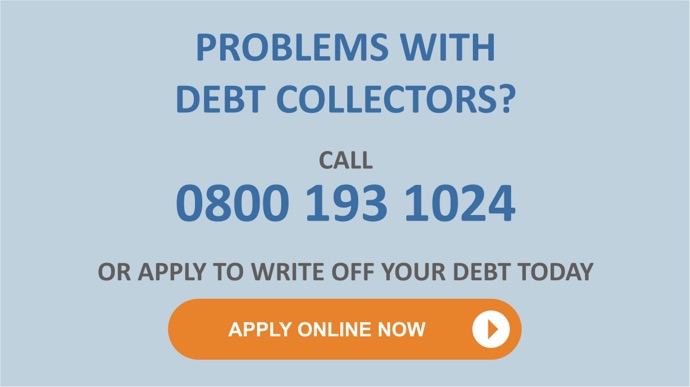 Who should I complain to?
You need to give the agency the chance to resolve or correct the issues you are raising. Taking the issue higher at this stage – for example to the Financial Ombudsman or the Credit Services Association– will only result in delay and you'll still need to contact the agency at first instance.
What should I say in my complaint?
At the top of the letter, or in the subject bar of the email, write 'Complaint'. If you've been given a reference number, add that too
Explain the situation. Say what you feel the agency has done wrong
Keep it simple and straightforward. Write as you normally do. There's no need to quote legislation or attempt to sound like a lawyer
If you're sending supporting evidence with your email or letter, only send copies
Say how you believe the debt collection agency could resolve the issue. Be realistic – the aim is to achieve compromise and that's easier when what you ask for is reasonable
Ask for a copy of the agency's complaints procedure in writing (or a link to an electronic version on their website) so you can see how they'll deal with your complaint – and ensure they follow it correctly. If your complaint is not resolved and they haven't correctly followed their own procedure, you'll have a stronger case to take the matter further
Ask the agency to halt any further action whilst your complaint is ongoing
Ask for an acknowledgement of receipt of your complaint, and a full reply in writing
Tips for writing a successful complaint:
Don't write angry: Keep what you say measured and controlled. If you're writing whilst feeling angry, upset or emotional there's a chance you'll miss saying something important – or say something you shouldn't.
Keep copies: Ensure that, whether communications are on paper or electronic, you keep copies of everything you send and everything you receive. If the agency calls you about the contents of your letter or email, note down the name of the caller and the date and time of the call, and politely ask them to put their query/response in writing.
Ask for help: If you don't know what to say or how to say it, ask a friend or family member to help you. Talking your complaint over with someone you trust might also help you find ways of making your complaint stronger.
Use A Debt Complaint Letter
You can send them a letter first asking them to prove that the debt is yours. They must prove its yours before they can take any legal action and if you have not acknowledge the debt for 6 years or longer than the debt could be statute barred, meaning they are not legally allowed to pursue you for the debt.
What happens next?
You may receive an acknowledgement email or letter from the agency telling you that they have received your complaint. The acknowledgement will usually explain the timescales the agency works to.
If you don't receive any acknowledgement, ask for one in a follow-up email, letter or phone call (noting who you speak to) two weeks after your complaint was sent. If you phone, don't get drawn into the contents of your complaint – simply ask for an acknowledgement that it has been received and an estimate of when it will be addressed.
NOTE
Unless the agency tells you their response will take longer, make a further follow up after eight weeks
What happens if my complaint fails?
If the debt collection agency does not uphold your complaint (or if you don't receive a response), you can take the matter further. The Financial Ombudsman Service operates across the UK and helps people resolve financial complaints.
How many referrals to the Financial Ombudsman are successful?
2018 saw a decrease in the number of complaints relating to debt collection upheld by the FOS. Even so, almost one third (32%) were successful. So if you feel you have legitimate cause for complaint, on current data, your complaint has a 1 in 3 chance of being upheld.
What if my complaint fails?
That depends on your personal situation and the nature of the debt, but if your complaint is not upheld and you are left owing an amount you cannot afford, there are a number of routes you can take. A Trust Deed Scotland, for example, will not only help you escape debt, but prevents any creditors or debt collection agencies chasing you for any monies owed under debts protected by the trust deed.
To explore trust deeds and other debt management options, talk to us.
Related Articles
Trust Deed Example
Example Unsecured Debts
1

Personal loan
£8,000

2

Credit card 1
£6,812

3

Council Tax
£4,092

4

HMRC Debts
£5,399

4

Overpayments
£5,200

4

Overdraft
£700
Total Owed
£30,204
Your Monthly Repayments Would Be
Before
a Scottish Trust Deed £748
(total contractual repayments)
After
a Scottish Trust Deed
£295
(total contractual repayments)
Reduced by
60%
Apply Now
* Subject to creditor acceptance
* Payment subject to individual circumstances
* Credit rating may be affected
* Fees apply, subject to individual's circumstances. For more information on our fees click here