What are your options when someone who can't manage their own affairs falls into debt?

In the second quarter of 2017, 1,506 people in Scotland died from forms of dementia. Although the jump was partially a result of a change in the way figures were recorded, dementia deaths accounted for around 10% of all deaths in Scotland, double the figure of just a few years ago.
Reporting at the time, the BBC quoted Dr Matthew Norton, director of policy at Alzheimer's Research UK, who said: "Alarming as this report is, we cannot hide away from the reality these statistics represent: the devastating impact of dementia across Scotland."
Last year, according to figures from National Records of Scotland, the numbers increased again.
Yet mental capacity is about more than dementia. According to Headway, the brain injury association, there were 348,453 admissions to UK hospitals as a result of acquired brain injury in 2016/17.
Whatever the cause, the challenge remains the same: when someone who has had mental capacity loses it, how do you help them overcome debt?
Mental health and mental capacity
For the purposes of this guide, we're drawing a distinction between mental capacity and mental health issues. Mental capacity describes someone's ability to understand their debt issues or make decisions about them.
'Mental health issues' describes those thoughts, illnesses or traits (e.g. depression) that someone may possess which do not affect understanding, but which may make it harder for them to manage money or cope with debt. You can find out more about mental health and debt here.
Mental capacity and debt
We all take our mental capacity for granted. Yet as the above stats show, there are many ways in which that capacity can be lost – permanently or temporarily; suddenly or gradually.
Insurance can cover the loss of physical or mental capability. It can protect mortgage payments or income levels. But insurance doesn't cover everything, and not everyone has it. Most of the UK adults who lose their mental capacity have some level of debt. And with average individual debt levels in Scotland now at more than £55,000, there's no reason to believe that average doesn't also apply to people who lose mental capacity.
So if you know someone who has lost capacity and whose finances need managing, what can you do about it?
How do I know if someone has mental capacity to manage their finances?
Everyone who is 16 years old and over in Scotland is presumed to have 'legal capacity'. That means we assume that everyone has the ability to make their own decisions.
Having mental capacity means having the right to make poor decisions. As the Social Care Institute for Excellence states, "People have the right to make decisions that others might think are unwise and should not automatically be labelled as lacking the capacity to make a decision."
Sometimes, it's very easy to see whether a person has the capacity to make a financial decision. Sometimes it is not. Just because a person may not be able to talk about their finances, for example, doesn't mean they can't understand them perfectly clearly. And just because they can't tell you what they want to happen regarding a debt, doesn't mean they can't indicate their preferences with facial signals or a squeeze of the hand.
Sometimes, you may notice subtler signals that someone is unable to make financial decisions for themselves:
Struggling to identify coins and notes
Paying excessive bills without querying them
Making rash or unusual financial decisions
Seeming to lack understanding about what is a 'fair' price
Struggling to use cash machines
Being unable to spot errors in bank statements
It's important to note that none of these in themselves means someone lacks mental capacity, but they may be indicators.
In deciding whether someone actually has mental capacity, Scottish law applies a series of tests laid down in the Adults with Incapacity (Scotland) Act 2000.
In practice, the steps to take in managing a person's debts depend on whether that person has capacity now or not.
What if someone has mental capacity now?
If someone has mental capacity now but wants to prepare for a time when they may not, they can set up a power of attorney. There are several types, but for managing financial affairs the correct power in Scotland is known as a 'continuing power of attorney'.
NOTE
It can take effect right away, or it can come into force if the person granting the power (the Granter) loses mental capacity to act on their own behalf.
How can a power of attorney help in managing debt?
With a power of attorney in place, the attorney can manage the financial affairs of the Granter, and this can include:
Manging bank accounts and investments
Buying and selling property
Making spending decisions (on, for example, welfare or care costs)
Managing debts
Where the Granter has run up debts that they cannot pay, all the debt management solutions available to people with mental capacity would also be available to the attorney.
The attorney could apply for a debt management plan, a protected trust deed or sequestration on behalf of the Granter. But there may also be another route, not usually open to other people in debt.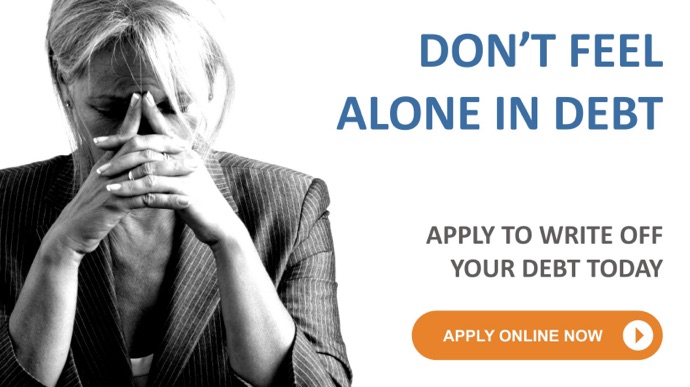 Debt write-offs
Credit companies (the organisations behind credit cards, bank loans and store finance) are required to work to codes of practice and industry standards, and those guidelines indicate that creditors should consider writing off debts where a person is:
Very unwell
Unlikely to recover in the foreseeable future
Unable to repay the debt
As an attorney, you can write to the creditors and ask that the debt be written off. You will usually have to supply some form of medical evidence – such as a GP's letter – and financial evidence.
Write-offs can be a successful way of removing debt, but it's important to remember that creditors are not obliged to write off debt. It can also be a long and drawn out process which could lead to an increase in the overall debt if the write-off is refused.
You may, therefore, feel it's wise to cover both options – requesting a write off, but also exploring debt management options in case the write off request fails.
What do I do if I believe someone doesn't have mental capacity?
A power of attorney can be a powerfully effective tool, but it can only work if it is registered before the Granter loses mental capacity.
If someone already lacks capacity and needs you or a close friend or relative to act on their behalf then you can ask the sheriff court to appoint an intervener or guardian.
An intervener would typically be appointed to resolve a one-off task (such as selling a house)
A guardian would be appointed for ongoing matters, and would be the usual appointment for someone managing financial affairs, including debts
The process can be complex and the Office of the Public Guardian recommends you get legal help with this. You can find out more here.
Supporting guardians and attorneys
As a guardian or attorney, it can sometimes feel as though you are expected to have all the answers, when in reality being asked to manage someone's financial affairs can be complex and time consuming. Where those affairs include debts, it can be difficult to know where to begin.
If you need help finding the right debt solution for someone in your care, talk to us.
Related Articles
Trust Deed Example
Example Unsecured Debts
1

Personal loan
£8,000

2

Credit card 1
£6,812

3

Council Tax
£4,092

4

HMRC Debts
£5,399

4

Overpayments
£5,200

4

Overdraft
£700
Total Owed
£30,204
Your Monthly Repayments Would Be
Before
a Scottish Trust Deed £748
(total contractual repayments)
After
a Scottish Trust Deed
£295
(total contractual repayments)
Reduced by
60%
Apply Now
* Subject to creditor acceptance
* Payment subject to individual circumstances
* Credit rating may be affected
* Fees apply, subject to individual's circumstances. For more information on our fees click here