Debt Letters From Advantis Credit? Here's Whats To Do
Advantis Credit Ltd are a leading UK debt collection agency (DCA) based in Stoke-on-Trent. Advantis Credit was established in 2004 and now works with over 2 million customers a year, including both individuals and businesses.
Advantis provides debt recovery services for some of the UK's biggest utilities companies, as well as the DVLA, HMRC and large retailers, among others. Advantis Credit Ltd specialises in debt collection, debt purchase and credit management.
Advantis Contact Numbers
01782 401125
Accreditations
Advantis Credit is a member of the Credit Services Association (CSA) and is authorised and regulated by the UK Financial Conduct Authority (FCA).
Credit Services Association (CSA) Collector Accreditation Initiative (CAI) certified
A participant in CSA Continuous Improvement Programme (CIP)
PCI DSS level 3.2 Compliant
Advantis is also accredited in the following areas:
ISO 27001 – Information Security Management
ISO 9001 – Quality Management
ISO 22301 – Business Continuity Management
ISO 14001 – Environmental Management
OHSAS 18001 – Health & Safety Management
Who Are Advantis Credit And Why Are They Contacting Me?
Advantis Credit are a debt collection company, so if you are contacted by them, it's because they believe you owe money.
You may be confused if you have never heard of Advantis Credit before – that's probably because your original debt was with a different company.
Your debt will have been passed onto Advantis because you defaulted on the agreement with your original creditor.
Unpaid Tax
Advantis Credit work with a number of different creditors, including HMRC. You may have been contacted if you owe unpaid tax from self-assessment tax returns or have been overpaid tax credits.
Advantis Credit also collect late filing and late payment penalties on behalf of HMRC.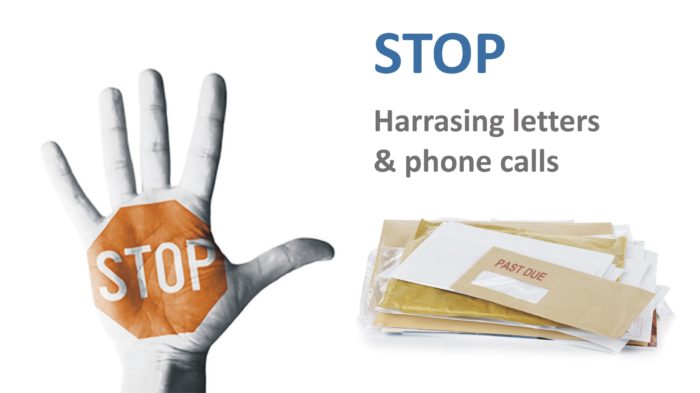 How Can I Stop The Debt Letters And Calls?
It can be worrying when you are first contacted by a Debt Collection Agency, but there are a number of steps you can take to reduce the stress.
The first thing to do if you are contacted by a debt collection agency is establish the original debt that this relates to. Ask Advantis Credit to provide a copy of the original credit agreement – they must legally provide it.

Request that you are only contacted by post – this should stop unwanted phone calls. Asking for contact by post gives you time to process the information you are being given, and takes the pressure off you for an immediate response.
Ask for breathing space– Most creditors will give you 30 days 'breathing space' if you tell them you are seeking advice about your debt problem. This should put a pause on most contact, though you may still receive some letters if Advantis is legally obliged to send them.
Seek advice – don't struggle with your debts alone. There are debt specialists like Scottishtrustdeed.co.uk who can advise you on the best way to manage your debt.
If you can afford to pay, do– The quickest and easiest way to prevent further contact from a debt collection agency is to pay what you owe. Obviously, this is not always feasible.
What Will Happen If I Don't Pay?
If you have been contacted by Advantis Credit, don't ignore the letters or calls, hoping they will just go away – it is always better to start a dialogue with the debt collection agency.
If you fail to respond, you put yourself at risk of legal action being taken against you and escalating costs putting you further in debt. Choosing to ignore your debts is also likely to cause further damage to your credit file.
You should contact Advantis Credit to discuss your circumstances, even if you feel you cannot afford to make any payments.
It may be helpful at this stage to seek advice on your debts – make sure you don't enter into an agreement with Advantis Credit without first making sure you can comfortably afford the repayments.
Work Out A Budget
Many people make the mistake of committing to repayments they simply cannot afford.
It's important to work out a budget so you don't leave yourself unable to make repayments, thus causing yourself further problems and leaving you unable manage day-to-day expenses.
When working out a budget you need to think about your income versus your expenditure.

Income: Wages, benefits, pension, tax credits
Expenditure: Rent/mortgage, utilities, insurances, groceries, existing debt repayments etc.

See here for more information on caculating a budget or contact us.
What Can Advantis Credit Do?
A debt collection agency has no extra powers beyond those of the original creditor your debt was with. They are also bound by stringent codes of practice. Debt Collection Agencies are different to bailiffs and there are several things they cannot do:
Can't harass you – for example with excessive calls
Can't mislead you or lie to you about their legal powers
Can't remove your possessions from your house
Can't discuss your debt with anyone else without your permission
They can chase you for payment, send doorstep collectors called field agents, add reasonable interest and charges, issue default notices, and apply for a County Court Judgement (CCJ).
What Do I Do If Advantis Credit Send Agents To My Home?
If you receive a visit from Advantis Credit's debt collection agents, it's always advisable to ask for ID and make a note of the agent's name.


NOTE

Debt collection agents, unlike bailiffs, CANNOT enter your home uninvited AND, if you do invite them in, they MUST leave if you ask them to. They're NOT allowed to remove your possessions from the house.


You can tell the agents at your door that you wish to deal with the debt in writing.
If you do decide to invite them in, explain your circumstances, don't agree to pay more than you can reasonably afford and show them your budget (if you have one) or ask for time to make one/ seek advice on your debts.
If you are going to make a payment, do this directly to the creditor or debt collection agency over the phone. Avoiding paying the agents gives them less incentive to visit again.
Finally, if you do pay the agent at your home, make sure you get a receipt.
How Can Scottishtrustdeed.co.uk Help Me?
If you are struggling with your debts, we can help. At scottishtrustdeed.co.uk we offer a range of debt management solutions and work with you to find the most suitable option for you. We could help with a:
Debt Management Plan – an informal agreement with your creditors to make affordable monthly repayments.
Debt Consolidation Loan – to clear all your current debt. Use the loan to pay multiple creditors, enabling you to make one single monthly repayment instead.
Minimal Asset Process (MAP) – a form of bankruptcy for those with a low income and few assets – you might be able to get your debt written off (Scotland only).
Scottish Trust Deed – repay affordable amounts over a fixed period (usually 4 years) then have the rest of your debt written off.
Debt Arrangement Scheme – helps you repay at an affordable rate (Scotland only).
IVA – another form of debt repayment plan for people with unmanageable levels of debt.
Bankruptcy – if you have unsecured debts you can't afford to repay, bankruptcy (called sequestration in Scotland) could help clear your debts, but has serious consequences and impact on your credit file.
How To Make A Complaint About Advantis Credit
If you have been left dissatisfied with Advantis Credit and feel that they have behaved unreasonably, you can make a complaint. You should always attempt to resolve your complaint directly with the company first.
You should make your complaint in writing by email or letter so you have a record of your complaint – it's much easier to keep track of what's been said this way.
You can email your complaint to Advantis Credit: [email protected]
Or write to:  Advantis Credit Ltd – Complaints Department, Minton Hollins Building, Shelton Old Road, Stoke-on-Trent, Staffordshire, ST4 7RY
Advantis have 8 weeks from the date of receipt to resolve your complaint. If you are still not happy with the response, you may want to take your complaint further.
You can do this by referring it to the Financial Ombudsman Service (for credit cards, store cards, loans and insurance accounts) or the Credit Services Association (for utilities, telecommunications or government body accounts).
The Financial Ombudsman Service, Exchange Tower, London, E14 9SR
[email protected]
Credit Services Association, 2 Esh Plaza, Sir Bobby Robson Way, Great Park, Newcastle upon Tyne, NE13 9BA
[email protected]
FAQs
Can Advantis Credit take me to court?
If you owe money to Advantis Credit and you do not pay, you can be sued. If Advantis Credit sues you and wins, the court will enter a judgment (also called an order) against you that says you must pay back the debt. But if all your money and property are protected, then creditors cannot take them from you. Get free advice here.
Legally write off up to 85% of debt
Unaffordable debt can be legally written off by using the LEGISLATED Scottish Trust Deed or IVA program (If you reside in England). This can also protect your assets, such as your house or car from repossession. See if you qualify by using our free debt calculator here.
How can I stop debt letters from Advantis Credit?
Write to Advantis Credit to Request them to Stop Contacting You (If That's What You Want) Under the FCA guidelines, if you request that a debt collector stop contacting you completely, it must do so (with a few exceptions). Your request must be in writing. You can use our 'prove the debt letter' to do this. Download it for free here.
Can Advantis Credit come into my house?
Without a court order, absolutely not. Neither Advantis Credit or any other debt collection agency nor a debt collector is considered a court-appointed bailiff. Advantis Credit may visit the address of a debtor but cannot enter the dwelling without the consent of the resident.
---
Services Offered By Advantis Credit: Consumer Debt Collection, Business to Business Debt Collection, Call Centre Support, Consultancy, Advice, Training, Outsourcing, Liquidation Book Debt Recovery, Tracing, Utility Debt Collection, Collector Accredited, Consumer Regulated Debt, Consumer Non-regulated Debt